ATV Sprayer with 60' Boom
The Top Air ATV Sprayer Goes When & Where Big Sprayers Can't.
Features
ATV field sprayers are equipped with a 200-gallon tank along with chioce of 60', 45' or 30' self-leveling, front-fold booms
Booms feature spring breakaway for quickly returning to working position should they come into contact with an obstruction
Tank agitation keeps liquid in suspension for maintaining a uniform spray solution
2-inch quick fill port for fast loading
In-line boom strainer virtually elimainates nozzle plugging
Three-section boom with single-tip nozzles that are available on 15" or 20" spacings and Raven 440 rate control

Six-section and Raven 450 rate control available for 60' boom models

Level fill indicator with red ball for excellent tank capacity visibility
Highly durable, 2" x 3 1/8", tubular steel frame for longer life
Corrosion-resistant, highly-durable powder-coat finish
Boom features "tool-free" height adjustment with standard winch, that raises and lowers the boom height from 12" to 30"
Travel over rough terrain with the standard tongue-mounted shock absorber system, and self-leveling boom that offers uniform ground clearance
5.5 HP Honda motor driven Ace 660 pump for easy and reliable operation
9-gallon clean water tank with spout and eye wash tube is also equipped with a storage container
ATV field sprayer is standard with 24 x 10.5 x 10 high-flotation tires.
Tandem axles are infinitely adjustable from 60" to 90" to match various row spacings. Axles may also be moved fore and aft to ideally distribute weight
All field sprayer purchases include a set of tips for the boom. Choose from a set of TeeJet XRC, AIC, AIXR or Turbo Drop Green Leaf Tips.
Accessories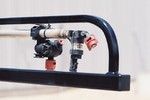 Fence Row Nozzle
Hose reel with spray gun kit for spot spraying
Fence-Row Nozzle - Easily spray the end rows with this accessory
Controller - TeeJet® 744A
Foam Marker Mark Master®
Ceramic Tips (TeeJet®)
Transport light kit for sarfer nighttime transport
Literature