Top Air's History
Humble Roots
The roots of Top Air date back to 1961 and Farmech Mfg. Co., when Wayne Dudley began manufacturing toolboxes to mount to tractors in his Parkersburg, Iowa garage. As manufacturers began adding toolboxes as standard equipment, sales of toolboxes slipped and Dudley and his company began manufacturing portable air compressors, eventually earning several patents for their design.
Growth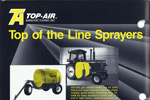 Full 1988 Sprayer Line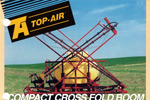 1993 Elliptical Sprayer
The compressor business grew and Top Air was adopted as the new company name. As pesticides began revolutionizing farming, farmers began spraying their own fields to take advantage of this new technology for improving yields. Using his knowledge of air compression and farming, Dudley began manufacturing pull-type sprayers in the early 1980s. The innovations built into Top Air sprayers earned several patents for their unique designs.
In 1995, Top Air Manufacturing became publically traded and purchased Clay Products of Cedar Rapids, where the new company relocated. The Clay lineup included milking parlors and Better-Bilt liquid waste handling products. The company further expanded in 1997 when it purchased Ficklin Machine of Onarga, Illinois and again in 1999 when it purchased Parker Industries of Jefferson, Iowa. Both of these provided a way for Top Air to even out its manufacturing between spring and fall products. All of this growth, combined with a three-year slowdown in the farm economy led the company to cease operations in December, 2000.
Moving Forward
Since February, 2001, the innovative spirit of Top Air's founder lives on with Unverferth Manufacturing. The updated, larger T-tank designs and wider booms continue the Top Air tradition of innovation and keeping pace with farmer's demands. In 2005, the American Society of Agricultural Engineers awarded the TA 1600 with its distinguished top AE 50 designation. You're invited to take a look at the wide variety of Top Air sprayers to keep your farming operation at the forefront of productivity.